CONSEQUENCES FOR FILING BOGUS COPYRIGHT NOTICES
REPEAT THE SAME YOUTUBE DMCA TAKEDOWN RITUAL
1. Here it can be seen that I uploaded a video on June13, 2011 under the premise of non-profit "Fair Use"
URL: http://www.youtube.com/watch?v=s6hCjAGr_A4

2. On May 22, 2012 Patrick Savey of Zycopolis filed 2 takedown notices using the YouTube Copyright Webform.

3. On May 30, I filed a counter-notice that the poor quality material taken from a TV webcast was used in a transformative non-profit creation and enhanced to HD for the purpose of teaching African culture and promoting African artists who rely heavily on YouTube since they have no adequate financial means to promote themselves.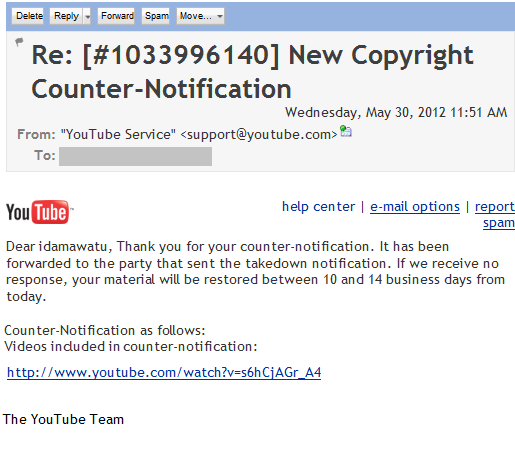 4. On June 13, I received an email from YouTube stating that the copyright notice has been processed and the video is unblocked and republished under the DMCA copyright law. This ritual was the same for all previous notices from Patrick Savey and/or Zycopolis Productions.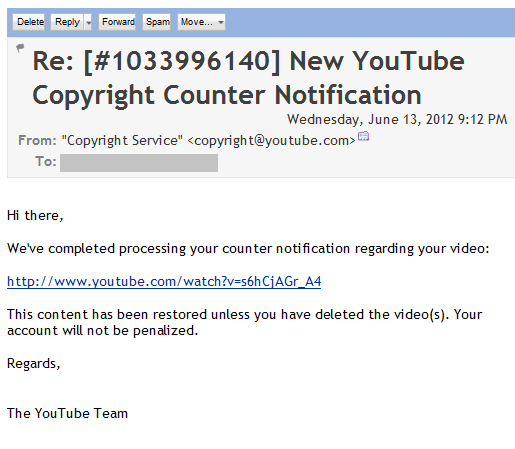 Now the damaging consequence of this perversion of filing the same notices over and over again without going to court is that the notices accumulate in the YouTube database as a permanent record of a repeat infringer, in this case 62 times, which really amount to defamation. How Patrick Savey and/or Zycopolis Productions managed to pull off an overkill of 62 notices out of one film and 12 YouTube uploads is beyond logical comprehension.
Worse still, I noticed that when the same video URL is linked to two notices but one copyright strike, a counter-notice will only resolve one of the duplicate notices but a ghost strike will remain in the YouTube system only to reappear as Strike #1 and a rude awakening of account termination with only two additional copyright strikes, debunking and invalidating the promise on the video restoration email that YOUR ACCOUNT WILL NOT BE PENALIZED.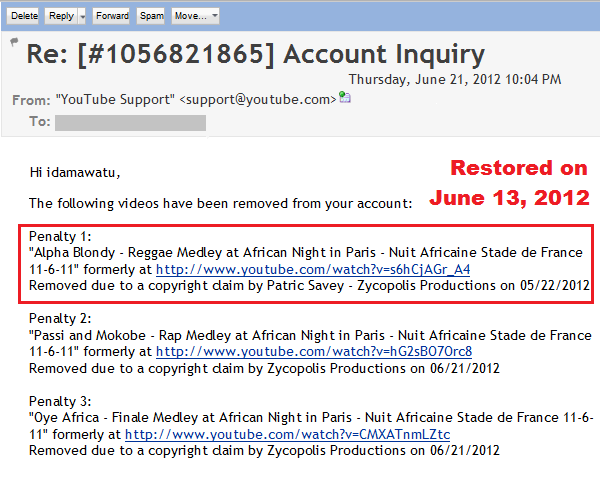 How can one explain such a scenario or 62 bogus notices in a 200-character YouTube account termination Webform? However, the Google suspended product inquiry for YouTube clearly lists the previously removed account penalty as 1 copyright strike and the reason to terminate my account with 3 strikes, when in reality there are only 2 strikes. All attempts to get the attention of YouTube support staff has been futile, that's why I created this website.
I apologize to all my 60,000 subscribers 260,000,000 viewers, and 800,000 embedded videos who encounter this below. Hopefully this issue will be resolved soon. We will continue to show Africa to the world. Thank you for your support.
MULTIPLE NOTIFICATIONS? THIS IS AN UNDERSTATEMENT OF THE MILLENNIUM! HOW ABOUT
FAKE, FALSE, FRIVOLOUS, FABRICATED AND FRAUDULENT NOTIFICATIONS TO BE EXACT 62 IN ALL?
ANYONE CAN CHECK OUT THOSE BOGUS NOTICES HERE